In need of new power tools? Well, we've got extremely good prices for you! Get quality pro-grade tools at blowout prices. Browse through our selection of hundreds of tools, and save big time.
Join us at your nearest HPM retail location for sales, games, and fun!
DATES & SALE DETAILS
💥Friday, May 3rd @ Waimea, 6:00 a.m. - 10 a.m.
💥Saturday, May 4th @ Kona, 6:00 a.m. - 10 a.m.
💥Sunday, May 5th @ Hilo, 6:00 a.m. - 10 a.m.
Be sure to arrive early to SAVE on limited Doorbuster deals!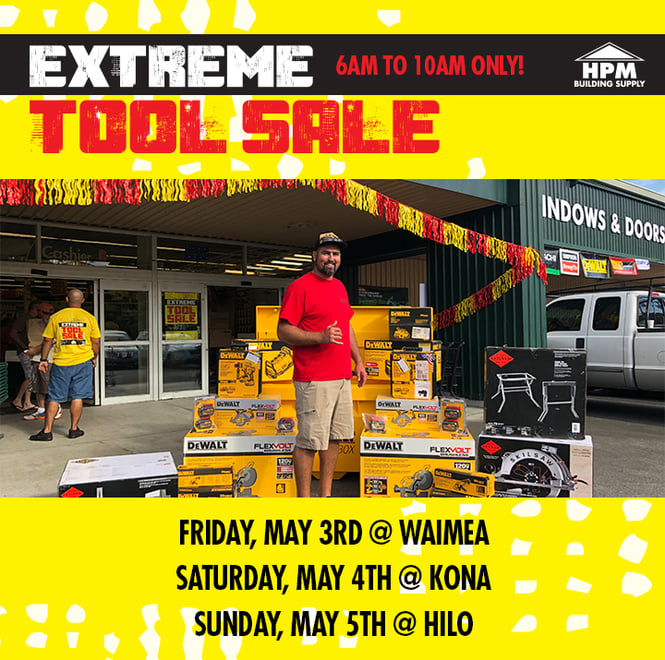 Interested in even more discounts? At HPM Kona & Hilo, enter the extreme skills challenges for the chance to win $100 off DeWalt tools. Check out the games below!
EXTREME SKILLS CHALLENGES
"Screw It" @ 8:00 a.m.
Screw in & unscrew screws the fastest!
"Iron Cross" @ 8:45 a.m.
Hold up 2 DeWalt Saws the longest!
"Nail it Down" @ 9:30 a.m.
Nail 10 nails the fastest!
For more information, visit our Extreme Tool Sale page.
Valid at Big Island HPM stores only. Prices valid during hours of sale only.
Doorbusters limited to one of each item per person. Limited to stock on-hand. No rainchecks.