Congratulations to
Debbie "Kepola" Ogata

for winning our grand prize of $930 in CASH!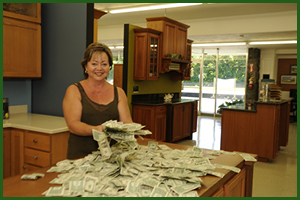 Thank you to everyone who participated in our #HPMThrowback Contest. We hope you had as much fun as we did (and maybe learned a little something about HPM's history in the process)! At the end of the month we had received over 600 responses, over 500 of which were correct and entered into both drawings for a chance to win… Visit our Facebook page to see all the photos that were posted and to watch a video of the grand prize WINNER being chosen by DC at the B97 & B93 studio!
Congratulations to our semi-weekly winners!
Winner #1 – Lyndsey DeSilva
Question: What year did HPM start manufacturing Custom Metal Roofing? Answer: 1963
Winner #2 – Loralyn Arakawa
Question: In 2008, HPM's Waimea store expanded its warehouse and drive-through lumber yard. What previously occupied the land directly in the back of the Waimea store? Answer: Cabbage Patch
Winner #3 – Al Dickerson
Question: What devastation affected Hilo in 1946 and 1960 that nearly twice destroyed HPM Building Supply? Answer: Tsunami
Winner #4 - Shane Kuwahara
Question: HPM's location in Kona originally opened as _______ in the same year Hawai`i became a state. Answer: Captain Cook Building Supply
Winner #5 - Sharon Sekiya
Question: Trusses, _______, and _______ are manufactured today in HPM's Shipman Industrial Park facility which opened in 1994. Answer: Wall Panels and Custom Metal Roofing
Winner #6 – Lani Jones
Question: After surviving two tsunamis, HPM re-opened for business on Kanoelehua Avenue (Hilo store) in what year? Answer: 1961
Winner #7 - Brandee Azevedo
Question: In 2009, HPM's Oahu branch relocated from Kalihi to what park site? Answer: Campbell Industrial Park
Winner #8 - Kallen Mizuguchi
Question: In _______, Kaua`i Lumber was founded to provide the island with building materials and supplies to help rebuild after Hurricane _______. (Kaua`i Lumber became HPM's Lawai branch in 2011). Answer: 1992, Iniki

In celebration of our 93rd Anniversary, throughout the month of August we posted #HPMthrowback photos on our Instagram and Facebook pages. Those who were able to correctly answer the HPM history question related to the posted photos were automatically entered to WIN one of two prizes! An HPM gift card worth $19.21 (get it, 1921?) which was awarded for each photo contest and the grand prize of $930 IN CASH!