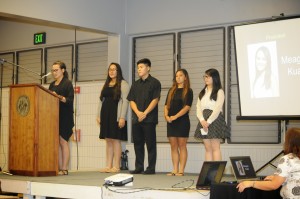 Junior Achievement (JA) of Hawaii Island's Company Program, which is the only of its kind in the state, organizes students from East Hawaii high schools into mini-companies to run their own businesses. From September through December, students get the opportunity to practice business hands on and learn leadership, accounting, marketing, sales, and production as they design, produce and market their own products.
This year's HPM-sponsored JA high school company team, "Aloha Supplied," was named 'Company of the Year.' The award is based on a system of points earned for employee (students) attendance, record keeping, community service, sales and profitability. Aloha Supplied also received awards for its merchandising and salesmanship during the JA Trade Fair and for having the highest sales (nearly $7,500, wow!).
The team was advised by HPM owner-employee, Cathy Yoshida, a veteran of the Junior Achievement Company Program, who volunteered along with six others from the local business community. HPM's Adam Bauer also participated in the program as a guest judge in the "Shart Tank" business plan exercise, where companies presented in order to receive their start-up loan.
In addition to HPM, two other team sponsors were Bank of Hawaii and Big Island Toyota.
With the helping hands of hundreds of volunteers each year, JA provides economic and business education to more than 4,000 East Hawaii students from grades kindergarten through high school. For more information about the JA of Hawaii Island's programs visit their website or Facebook page.