As HPM Building Supply celebrates its 97th year of service, we reflect on our values and the enduring principles that have guided our business every step of the way.
"As the fifth generation to lead HPM, I've watched my father, Mike, and my grandfather, Bobby, carry the founding values of integrity, respect and continuous improvement in pursuit of excellence to every corner of our company and empower our team members to do the same," says President & COO Jason Fujimoto. "In our business, relationships come first. My grandfather always says, 'Just take care of your team. Just take care of your customers. That's all you have to worry about.' We take this to heart every day, because it's all about connecting with people. Knowing that we'll be there for you, and you'll be there for us when we need it most."
Steadfast Commitment
From the company's humble start as a small lumber mill in Hilo in 1921, HPM Building Supply has grown to become a leading Hawai'i building partner statewide – with seven locations on Hawai'i Island, O'ahu and Kaua'i, more than 2,200 product lines, including manufactured products, as well as pre-designed home plans, custom metal roofing and pros-only services.
Along the way, HPM has weathered many challenges. When a tsunami (the second in the company's history) leveled the Hilo store in 1960, a loan from the local Small Business Association helped Bobby Fujimoto, then President and General Manager, rebuild and start again.
"We're still standing today, fulfilling our mission of helping customers build better, because of the steadfast commitment and support of our team members, our customers and the communities we serve," says Chairman & CEO Mike Fujimoto.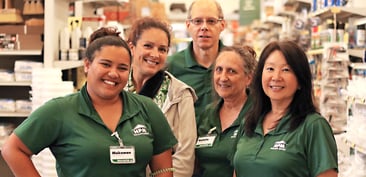 The People of HPM
An integral part of the company's service commitment are the people of HPM.
"We've been completely employee-owned since 2006," says Mike. "Every day customers enjoy the benefit of being served by an owner. Many of our employee-owners have been with us for decades because they are personally invested in serving our customers."
Jason adds, "As a truly, local 100% employee-owned company, we are grateful for the support of our customers, which provides for our team and their families and allows HPM to give back to our community."
A Strong Foundation
With an emphasis on service, HPM's partnerships, in-kind donations, charitable giving and special scholarships for students and builders in training further strengthen Hawaii's communities.
"The more we can do as a company and as an industry for our neighbors, the stronger we all are," says Mike.